Serengeti Migration Safari
About Serengeti Migration
The great migration is not a single event. Instead, it is a constant movement of herds that follow the rains in Africa, which bring life to the land. There is no real beginning or end to the migration. Instead, there is a clockwise route that has been used for thousands of years to graze and have babies.
Every year, millions of wildebeest and other plains animals follow their instincts and the changing seasons of Africa to find good places to live. This is the big move across the Serengeti.
The path of the migration goes through the western savanna woodland from the southern Serengeti and Ngorongoro plains. From there, the animals move to the northwestern part of the Serengeti and Mara ecosystems and then back to the south through the eastern part of the parks and reserves.
Along this path, important things happen that safari-goers like to see, like the roaring mass of animals, the animals crossing the Mara River, the animals giving birth, and the predators that follow them.
Animals that move
60% of the convoy is made up of wildebeest, followed by zebras, Thomson's gazelles, and eland.
60% of the convoy is made up of wildebeest, followed by zebras, Thomson's gazelles, and eland.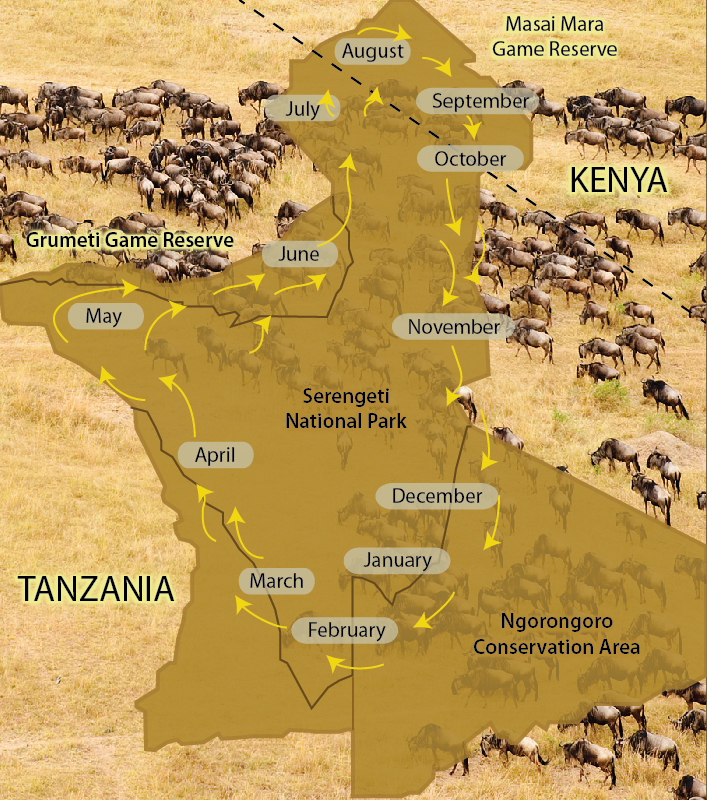 January to the end of March
The southern Serengeti and Ndutu plains have a lot of wildlife.
This is the best time to see how big the migration really is. The core Ndutu and southern Serengeti areas are the best places to see the huge animal migrations. The flat, green plains and unobstructed views make this one of the best places to watch wildlife.
From January to March, about 8,000 wildebeest, zebra, Thomson's gazelle, and eland babies are born to their different families. The plains from Naabi Hill Gate in the north to Olduvai Gorge in the south and Maswa in the west are full of new life. At this point, safaris have many exciting moments that are not always good for people who are easily scared. The babies are weak and easy for predators to catch. Lions, cheetahs, hyenas, and even jackals are always looking for ways to eat.
August to October
Crossings of the Mara River
Migration safaris are exciting from July to September because herds are crossing the Mara River. Crocodiles grab some of the animals as they go into the water. Their sacrifice makes sure that this amazing journey of species will go on.
The most exciting migration activity happens during these two times: January to March and July to September. Even though the animals are still moving in the months before and after these times, they aren't as interesting to watch for two main reasons:
From April to June, when most of their young have learned to walk, the herds keep moving north to find new grass. The long rains in April and May give the animals enough water and food to spread out across the whole southern Serengeti plains. From east to west, they broke up into smaller groups and moved slowly but steadily north.
From October to December, the herds are spread out across the greater Masai Mara conservancies (and sometimes even into Loliondo) and the hills and valleys of the north-eastern Serengeti. At this time of year, it's not unusual for animals to be in front of your camp at night. But by the next morning, they will no longer be there because they will have kept going south. During this part of the migration, the herds break up into even smaller herds and groups.
In the months of May and June
headed north
In April and May, the skies open up and it rains every day in the Serengeti. This causes many seasonal roads around the area to close.
May and June are two of the three best times for migration safaris to see herds (when the roads are open again). On migration safaris in June and July, it's harder to find herds because there aren't as many roads and the Grumeti Reserves private concession is in the way.
From October to December
headed south
By October, the animals have eaten all the grass in the Mara plains. Their natural instincts kick in, and they head back south to find more grass to eat. Surprisingly, they get to the plains at Ndutu just a few days after the season's first rain. The herd leaves Lobo and the Bologonja Springs, where there is good enough grazing, and heads south again across the eastern and central savanna woodland.
Here, the animals have spread out to places with water and grass where they can be close to the lakes and plains of Ndutu. Predators often hide in the Lobo grass at this time. Will you see a lion make a move?
Your Tanzania  migration safari is the only way to find out.
Related Serengeti Migration Safaris
7 Days Tanzania luxury Migration Safari
6-Day Tanzania Midrange Tanzania Tour
5 Days Serengeti migration luxury safari
What Our Clients Say About Us
Excellent! We really enjoyed the safari, everything was well organized, it was wonderful.Dickson our guide was very professional, he did everything so that we could see as many animals as possible, it was a wonder every day.this Safari will remain an unforgettable memorythank you to the whole Mango Kili Adventuresi team
Kilimanjaro Hike and visit of Tarangire and Ngorongoro Nationalpark We spent around 10 days with Mangokili adventures doing both a hike up Kilimanjaro, along the Lemosho route and visiting Ngorongoro and Tarangire Nationalpark. The hike up Kilimanjaro was amazing and the support we received by the team in terms of service and kindness was great, we really loved it. Also the trips to the Nationalparks were great and very interesting.
Gian Luca Reiss
2022-08-25
Very nice! We were a group of 3 friends who climbed the Kilimanjaro with the Lemosho-Route in 6 days (normally 7 days) and did a 2-day safari afterwards. From the point of interest to the actual engagement, every worry and question was taken care of by Mangokili Adventures. The organization worked out super well. We had 2 great guides, 11 great porters for the Kilimanjaro-hike and 1 great guide for the safari. Especially good for trips with a budget. We paid in total about 2.400 USD.Super content.
Einfach super Super Erlebnis.Wir hatten eine Tagestour und es war traumhaft. Immerwieder gerne.Alles war so wie geplant.Wie werden beim nächsten mal wieder buchen...
Todo perfecto Todo perfecto y organizado. Amabilidad, juventud, profesionalidad y seguridad. Erick no solo nos hizo de anfitrión sino que se convirtió en un compañero más.Eficaz solucionando problemas y llevando la organización de forma perfecta.
Amazing adventure Mangokili adventure is a great team... It's better say... they're an incredible team, all my group climbed the KILIMANJARO due to this amazing persons and after that we had three days in differents safaris. Marvelous
Quite Adventurous! I have had an opportunity to travel with Mangokil Adventures company, they are real observe professionalism. I went with a friend and the founder Erick was very informative. He well organized our trip to our satisfaction. The Camping sites were awesome. He offered us a Mto wa Mbu free trip and was absolutely amazing. Seen a lot of artistic paints with millions meanings. This is the company I would definitely recommend anyone want to experience an adventurous life 🙂!Thank you Erick, you are the best!
The tour was great with a very friendly guide and driver, the accommodation was outstanding The tour was great with a very friendly guide and driver, the accommodation was outstandingThe communication was great, always replied to our questions. The driver was good and even helped us spot animals on the safari while driving, the guide was easygoing and replied to any of our questions.The accommodation should be displayed as premium, we did not expect to arrive at a toilet inside the room, a bottle of water to brush your teeth, soap and clean towels provided, amazing food and chef, a lounge to chill and take beers/drinks. Pictures of the accommodation and food should be displayed as it was way more than we expected given the surroundings
Excellent trip with an excellent guide Excellent trip with an excellent guideWe received exactly what we have expected. Even more!Erick our guide was funny and supportive of all our wishes.We have seen everything whatever can be wished to be seen!
A passionate company providing a unique safari experience. A passionate company providing a unique safari experience.It has been my pleasure to follow and experience Mangokili Adventures. The commitment shown by Erick and staff to explore and experience the care for wildlife and entertain tourists from all over the world is to be commended. A credit to the safari team, for sharing their wildlife and history, through their endeavors to enrich our lives.